Well, this is a misleading title for today's blog, as there is no singular perfect day at Naia Residences. What follows below is but one scenario that doesn't involve a lot of driving or even leaving the neighborhood!
Sunrise?
Are you an early riser? Then the sunrise and pre-dawn hours here are magical. The world is quiet, and at the oceanside, the sun bursts past the horizon splendidly, especially on calm days. A swim in the sea is in order on such mornings if you are so inclined. Not an early riser? Grab a cup of coffee on your veranda or by the lagoon side, and then head out kayaking or paddle boarding either to False Caye on the Caribbean side or through the mangrove cathedrals of the lagoon to the west.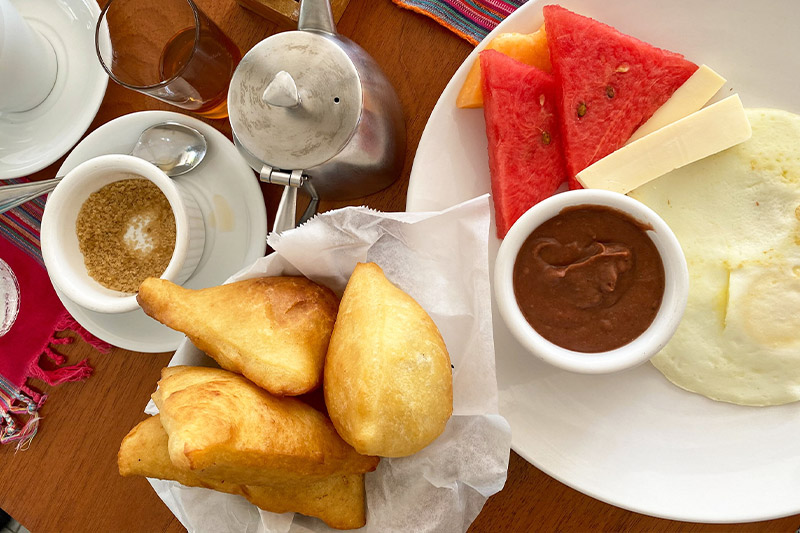 Breakfast
You may soon find out, much to the detriment of your waistline, that it is hard to find a bad meal on the Placencia Peninsula. Whether you're digging into a Belizean breakfast of fry jacks (not FRIED jacks), beans, sausage, and eggs at Naia, or perhaps eggs 'benedict at Maya Bistro, there is a wonderland of breakfasty goodness to explore.
The Morning
Do you head to the sea, the jungle, or the village? Or just relax at home or at Naia Resort and Spa? These are the sweeping, difficult decisions that need to be made around here on a daily basis. The weather, however, usually can help guide these decisions. Flat, calm, sunny, and hot days are a natural fit for a day of fishing, diving, snorkeling, or simply island hopping. Cloudy and cool days are for walking in the jungle at Cockscomb or Bocawina. And anything in between is a good time to head down to Placencia to savor Tutti Frutti gelato from the source, fresh and direct, or to relax by the pool with a cold beverage in hand.
Lunch….
And while on the topic of food in Placencia, you are once again faced with the challenge of myriad good choices! Do you get a lunch of Aguachile tostones with tender chunks of fresh snook fillet at Maya Bistro, or do you opt for delectable chicken skewers on a bed of red quinoa at Naia? Or perhaps head into the heart of the village of Seine Bight for a plate of rice and beans and stew chicken (not STEWED) from Vern's? Decision paralysis, maybe, food coma, definitely.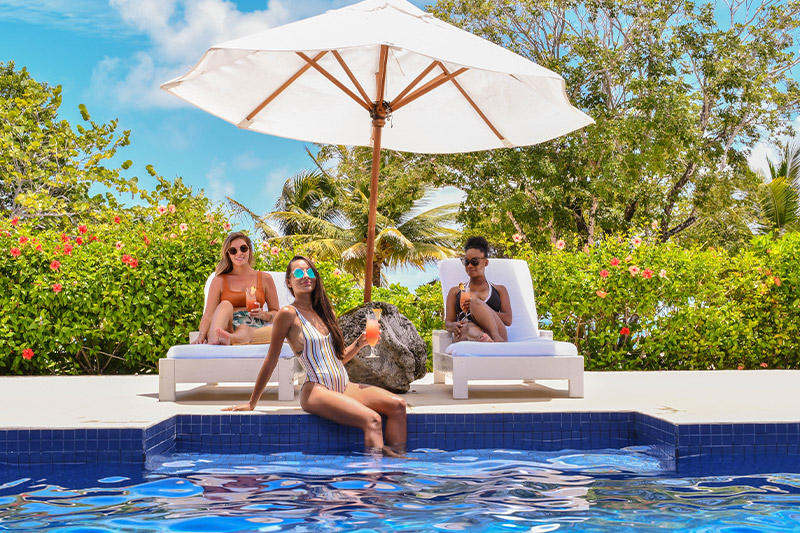 Afternoon
The days around here can be hot sometimes, so the hours after lunch are a pretty good time to lay low. On a massage table. At the Naia Spa. For at least an hour. Whether you're in the mood for a Cacao Wrap body treatment, a facial, or one of our spa's signature massages, there's no way you can go wrong spending the warm afternoon hours at the spa. The other option that comes to mind is dissolving oneself into one of the dozen pools at the resort, whether at one of the rooms or villas or the main pool or spa.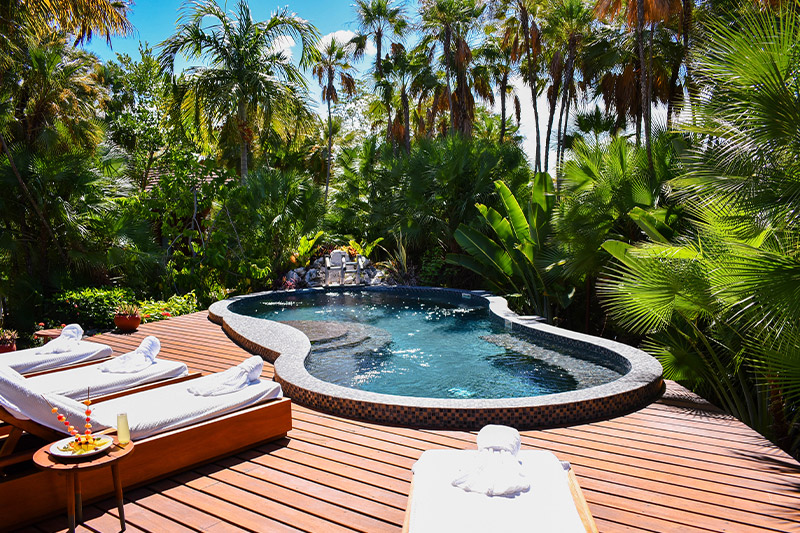 Evening
If the day has passed and you still haven't gotten your dose of physicality and movement, a quick trip to the gym might do the trick, or even better, scheduling a yoga class with the resort's onsite yoga instructor. Another option is to take a kayak and explore the mangrove cathedrals that grace the lagoon area on the west side of Naia Residences.
Night
Dinner… if you've read this far, then you can probably predict that you've got quite a few options open to you. Whether you choose creole seafood at Omar's, Neapolitan style pizza at Turtle Inn, or whole baked hog snapper a lo Italiano at La Dolce Vita, you better prepare your taste buds for an eclectic treat.
If you're still up for more excitement after dinner, check out Tipsy Tuna and Barefoot Beach Bar, the two main watering holes of Placencia village. They're side by side and feature live music with regularity.
Home Sweet Home
There's a lot to do at Naia Resort and Spa, on the peninsula, and beyond, but there's nothing sweeter than coming home to your own place here at Naia Residences at the end of the day, regardless of where you've been and what you've done. Owning property here and building a home has never been easier. If you ask anyone around about where on the peninsula or Belize they wish they lived, more often than not, you'll hear a familiar answer: Naia. Write us at sales@naiaresidences.com for more details about becoming a part of the community or to set up a virtual tour of our lovely neighborhood.